I started editing Bedsheda games when I was a boy. my first was just oblivion. years later I tried skyrim. getting the result I wanted but the game with 200 mods kept crashing the mods were constantly conflicting with each other and I didn't have enough modding experience to understand what the problem was. your engine is great. the mods are subdivided and if one comes into conflict with another the engine itself automatically excludes the conflict. I just wanted to thank you. you did what original game programmers with years of experience could never solve.
screen with activated lighting mod...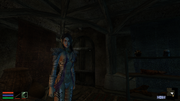 shader mod of the sea water...